Best Oral health for dogs and cats in East Austin, Texas!
Our pets' oral health impacts their general wellbeing. Although you may brush your pet's teeth, it doesn't limit bacteria from growing beneath the gum line.
The bacteria can cause tooth loss, periodontal disease, gingivitis, bad breath, pain when chewing, and/or root abscesses. Bacteria in the mouth can also travel through the bloodstream to all major organs, causing infections to the interior organs, like the heart, kidneys as well as liver, causing serious organ damage and possible organ failure.
MAINTAIN YOUR PET'S ORAL HEALTH
To prevent dental diseases and avoid health risks, your pet should have a deep cleaning every 6 months. At Woof Gang Bakery & Grooming Mueller we provide anesthesia-free dental care to dogs and cats under the supervision of licensed veterinarians.
COST
Deposit - $75 (non-fundable) The will be applied to your pet's dental cleaning fees
Under 40lbs: $195
Over 40lbs: $250

Schedule your Appointment Today!
Click to watch how the non-anesthetic dental cleaning is performed.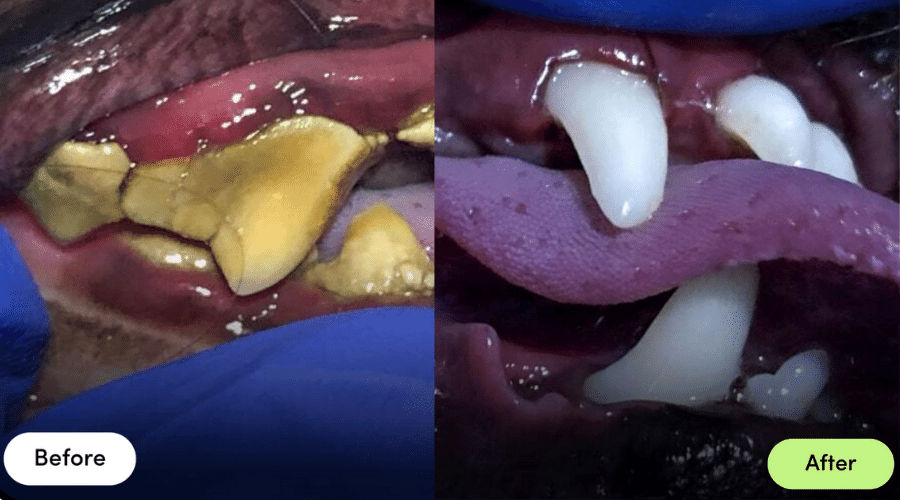 Come visit our pet supply store in East Austin, TX specializing in quality food, treats, and supplies for dogs.